Visit the Archive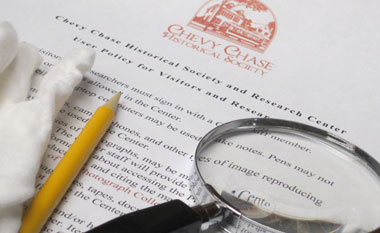 The Archive and Research Center is currently closed to the public.
To make a research appointment, please contact us at 301-656-6141 or info@chevychasehistory.org.
---
The Archive and Research Center welcomes visitors on Tuesdays, from 10am-12pm, and from 1pm-3pm.
All visitors and researchers must sign in with a CCHS staff member.
No food or drink is allowed in the Center.

Only pencils and laptop computers may be used to take notes. Pens may not be used.

Cameras, camcorders, camera phones, and other types of image reproducing equipment may not be used in the Center. In some circumstances, study images for research purposes may be made with the permission of Center staff.

Copies, except for copies of photographs, may be made on the Center copier on a fee-for-page basis. The Center staff will provide assistance if acid free paper is required. For information about accessing the Photograph Collection, ordering reproductions, and citing the materials, please see the CCHS Regulations for Use of the Photograph Collection.

Archival materials (books, magazines, tapes, documents, etc.) are for reference use only and may not leave the Center. If you are interested in viewing our maps, please email us at info@chevychasehistory.org to make a special appointment.

Items stored inside the document boxes are extremely fragile. Visitors and researchers should view and/or handle them with care, under the supervision of a Center staff member. Items in mylar envelopes may not be removed without permission from the Center staff, who will provide gloves for examination of sensitive materials.

CCHS reserves the right to inspect all containers (handbags, briefcases, computer bags, boxes, etc.), outerwear, and persons upon their departure from Center.