Newsletter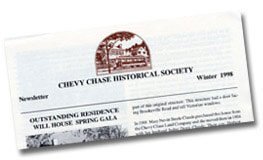 Our Newsletter, published three times a year, reaches more than 2,500 households. The Newsletter carries articles on Chevy Chase history and information about the CCHS projects and programs, as well as photographs from our archive.
Current Issue
The Current Issue of the CCHS Newsletter is available!
To read past issues of the CCHS Newsletter, open the Archives link under the Newsletter menu. If you have any difficulty in accessing the newsletters, please contact us at info@chevychasehistory.org or call us at 301-656-6141.