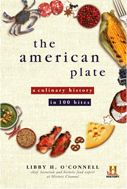 Sunday, November 15, 4 p.m. Chevy Chase Village Hall 5906 Connecticut Avenue
Watch Libby O'Connell's Lecture on the CCHS YouTube Channel:
Click HERE to watch Part 1 of 3
Click HERE to watch Part 2 of 3
Click HERE to watch Part 3 of 3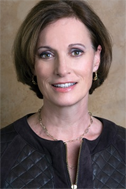 Looking for a recipe for roasted beaver tail or eel pie for your Thanksgiving table?  Or just curious about when and why those dishes were served?  The Chevy Chase Historical Society's 2015 fall program, "Beaver Tail to Baked Alaska: A History of the American Plate" answered these and many more questions about American food.
Historian and author Libby O'Connell told the intriguing story of America's culinary past at an illustrated lecture on Sunday, November 15, 2015, at 4:00 p.m. at the Chevy Chase Village Hall, 5906 Connecticut Avenue.  She discussed her new book The American Plate: A Culinary History in 100 Bites, a rich chronicle of the evolution of American cuisine and culture, from before Columbus' arrival to today.
With an engaging combination of humor and historical accuracy, O'Connell explained how remarkable changes in ingredients, recipes, and menus provide a window on just how different life was during various periods in America history.  Within the framework of history, she took us back in time, exploring the techniques, textures, smell and tastes of American plates over more than three hundred years.  From the roasted beaver tail of early explorers to colonial Shoo Fly Pie, from Civil War soldiers' rations to the Baked Alaska of the Gilded Age, and from Jello to microwave popcorn, O'Connell showed how economics, technology and social movements have changed our culinary tastes.
O'Connell was the Chief Historian and Senior Vice President for Social Responsibility at the History Channel and A&E Networks, where she oversaw corporate and educational outreach.  She has also served as executive-producer on site for organizations such as the Smithsonian, Ellis Island, and Gettysburg. O'Connell developed Mission to Honor: the Veterans Campaign, Take a Veteran to School Day, and Save Our History, three corporate initiatives that have been recognized by the White House as well as the Mayor's Office for City of New York.  She has received three Emmy Awards for her work in television, and appears on national TV as a guest commentator.  In 2007, she received a Vanguard Award from the NCTA, cable television's highest honor, for her work in public affairs.
O'Connell received her M.A. and Ph.D. in American history from the University of Virginia after graduating from Tufts University magna cum laude.  She serves on the boards of several organizations, including the Thomas Jefferson Foundation at Monticello, the Smithsonian's Center for Folklife and Cultural Heritage, and National History Day.  In 2013, the White House appointed her as a commissioner on the United States World War I Centennial Commission.  
After O'Connell's illustrated talk, light refreshments, including treats from O'Connell's book, were served.  A video of the lecture will be posted on YouTube in the coming months -- check our website homepage for a link when the video is available.  For any questions about this CCHS event, please contact CCHS at 301-656-6141 or email us at chevychasehistory@msn.com.