History-Go-Round Tour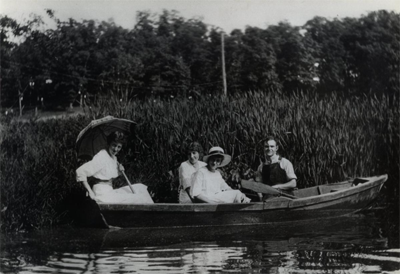 "The History and the Mystery of Chevy Chase Lake" Due to demand, we are offering this tour once again! Saturday, October 27, 2018 – 2:00 p.m.
Our Archive and Research Center with former CCHS director Gail Sansbury presented an illustrated lecture and walking tour of Chevy Chase Lake on October 27 at 2:00 p.m. at 8401 Connecticut Avenue, Suite 1010, Chevy Chase. In 1892 Coquelin Run, a tributary of Rock Creek, was dammed to create a man-made lake next to the power house which produced electricity for the new trolley line on Connecticut Avenue. The trolley carried residents of the new suburb to their jobs in downtown Washington. But the lake was much more than an industrial pond -- on its banks was the Chevy Chase Lake Amusement Park.
Operating from 1894 to 1936, the park was intended to draw prospective land and home buyers to the Chevy Chase Land Company's new suburban development. With picnic areas, boating, a bandstand, dancing pavilions, a merry-go-round, and other amusements, it was open from late spring through early fall. During winters, skaters glided over the lake's frozen surface.
Participants will gather at our office at 8401 Connecticut Avenue, where Sansbury will present an illustrated introduction to the history of the lake and surrounding area. She will then lead the group on a walking tour, pointing out the contours in the land where the lake once stood, and passing other points of reference. Historic photos of the lake and environs from the CCHS archive will be shared to illustrate the "then and now" of these locations. After the walking tour, the group will then return to the Chevy Chase Historical Society Archive and Research Center for refreshments and continued discussion as desired.
The price for the tour and refreshments is $15 for adults and $5 for children. Space is limited and reservations must be paid for by check in advance To make a reservation and receive further information, please email info@chevychasehistory.org.