By establishing the school in Chevy Chase, the Barkers and the Farringtons who succeeded them could guarantee a safe, healthful, and socially exclusive environment for their young female students.  These qualities, along with the Barkers' experience as educators, were selling points used to convince parents to send their daughters to Chevy Chase. In return, Chevy Chase School would refine – or "finish" these young women's social skills as well as provide them with the academic knowledge thought suitable at the time.  The ideal setting of Chevy Chase school was described in a 1910 Washington Post article:
"The location of the college is most desirable because the students have every advantage that the city can give and also the pleasures and benefits of country life. Chevy Chase is the most aristocratic suburb of Washington. After years of experience and a thorough investigation, the principals, Mr. and Mrs. S.N. Barker, are thoroughly convinced that suburban location has advantages for a school for young ladies that the city itself cannot furnish."
Chevy Chase School's main building, constructed of brick in a Colonial architectural style, was set far back from Connecticut Avenue, and served as the main focal feature of the campus. It housed many of the administrative offices, classrooms, reception area and living rooms used on a daily basis by the students, as well as bedrooms for boarders and resident teachers.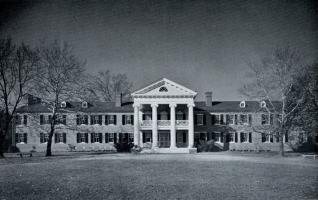 Bedrooms at the school were designed to accommodate two students, and while communal bathing areas were located on the same floor as the bedrooms, a few rooms had private baths. The kitchen and dining rooms were located in the center of the building, and a large front porch was added to allow girls to spend time in the open air even during inclement weather. The porch, with its classical columns, demonstrated to all newcomers that Chevy Chase School was a place of prestige and importance.
Advertising the School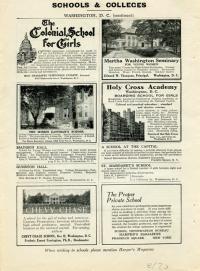 In order to attract new students the school advertised in magazines and newspapers, often noting the spacious campus, athletic fields, and proximity to the capital.  On the right, advertisements for Washington, DC schools printed in Harper's Magazine show how Chevy Chase School compares with other schools in the area.  We've outlined the Chevy Chase School advertisement in red.
Just a short ride away, Chevy girls had access to all the important and historic buildings found at the seat of the US Government. Almost every advertisement described the beauty of the Nation's capital city as well as the surrounding suburban landscape, making sure prospective students were aware of the benefits of having both close at hand. Chevy Chase also emphasized the benefits of its "artesian water and pure air" which provided ideal health conditions for the young women who attended.