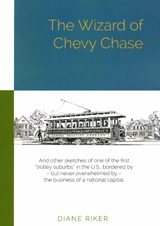 The Wizard of Chevy Chase *OUT OF STOCK*
Elmer Gates attempted to capture emotions in test tubes and believed that crime originated in diseased brain cells and would soon be solved by surgery. He was just one of the colorful characters who inhabited this seemingly placid suburb.
There was Anton Dilger, the son of a Virginia farmer, and a pioneer in germ warfare. He became a spy for Germany during World War I, manufacturing deadly toxins in a local cottage, the first attempt at wholesale biological warfare.
And Professor Noran, who set his tissue paper cape on fire and dove 100 feet into a man-made lake on Connecticut Avenue.
Did you know that the Avenue was once paved with brick and that a little city of army tents once occupied the block between East Underwood and East Thornapple? That at one time there was alligator wrestling in a public swimming pool here? Or that a socialite who lived on Woodbine Street in a castle sued a sculptor for blackmail?
This book of brief sketches from Chevy Chase history brings the above and much more to life!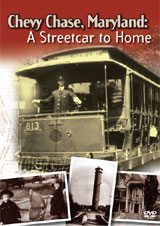 Chevy Chase, Maryland: A Streetcar to Home
Available in DVD Format: The Definitive Documentary Film on Our Community's Colorful History.
The idea of working in one place and living in another isn't unusual today, but in the late 1800s it was a radical notion. The electric streetcar made it possible for early suburbs like Chevy Chase to attract families away from the cities with the promise of a tranquil yet convenient life in the country. While streetcars may be history, "Chevy Chase, Maryland: A Streetcar to Home" shows how today's Chevy Chase remains true to its original suburban ideas.
The Chevy Chase Historical Society, which has recorded and preserved the history of Chevy Chase since 1981, produced this film in collaboration with award-winning VideoArt Productions. The 32-minute film tells the history of the community through interviews with historians and local residents, spiced with oral histories from early Chevy Chase families. It features charming vintage photographs, beautiful contemporary footage and original music by composer Robert Xavier Rodriguez, inspired by Eubie Blake's 1915 "Chevy Chase Fox Trot."
The Placenames of Chevy Chase, Maryland
This is a history of Chevy Chase, Maryland, from its founding as a streetcar suburb in the 1892 by Francis G. Newlands. Published as part of the "Placenames of America" series, this richly illustrated book traces the history of the area from colonial times to the present.
The Placenames of Chevy Chase, Maryland was researched and written by long-time Chevy Chase residents and CCHS members Joan Marsh and Frances Stickles.  Both published authors in their own right before they wrote Placenames, Marsh and Stickles brought a combined 100 years of living in Chevy Chase to their work as researchers, historians and residents of the neighborhoods they bring to life in the book.
Purchase Both the DVD and Book and Save!
Both CCHS Members and Non-Members can save money by purchasing the "Book and DVD Combo."  
Buy 1 Book and 1 DVD, and enjoy both at a special low price.  The "Book and DVD Combo" makes a wonderful gift for family, friends, and neighbors.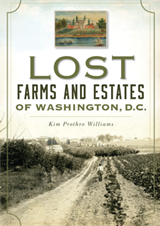 Lost Farms and Estates of Washington, D.C. by Kim Prothro Williams
Washington has a rural history of agrarian landscapes and country estates. John Adlum, the Father of American Viticulture, experimented with American grape cultivation at The Vineyard, just north of today's Cleveland Park. Slave laborers rolled hogsheads—wooden casks filled with tobacco—down present-day Wisconsin Avenue from farms to the port at Georgetown. The growing merchant class built suburban villas on the edges of the District and became the city's first commuters. In 1791, the area was selected as the capital of a new nation, and change from rural to urban was both dramatic and progressive. Author Kim Prothro Williams reveals the rural remnants of Washington, D.C.'s past.
Kim Prothro Williams is an architectural historian with the D.C. Historic Preservation Office. For more than twenty-five years, she has been researching and writing about historic buildings and communities in D.C., Virginia and Maryland, with her primary focus being to evaluate buildings for listing in the National Register of Historic Places. Kim is a published author of books, articles and heritage trail brochures dealing with the built environment. Two of her books, Chevy Chase: A Home Suburb for the Nation's Capital and Pride of Place: Rural Residences of Fauquier County, Virginia, address the transformation of the agricultural landscape.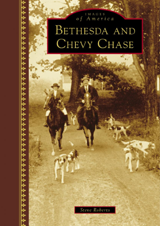 Images of America: Bethesda and Chevy Chase by Steve Roberts
When Washington became the nation's capital in 1790, the surrounding area to the northwest--the communities known today as Bethesda and Chevy Chase--was devoted almost entirely to agriculture. Many farms were worked by slaves, and one of them, Josiah Henson, escaped to Canada and wrote his life story in 1849. Harriet Beecher Stowe based her novel Uncle Tom's Cabin on Henson's life, and the model for that famous dwelling still stands in Bethesda today. The transition of the region to modern suburbia started with a simple innovation: the trolley. Once lines were built in the 1890s, government employees could live outside the city and commute to work. But, the neighboring towns developed among different lines. Bethesda became a bustling commercial center, while Chevy Chase was created as a planned community featuring elegant homes and country clubs. Even though both border the capital, this book demonstrates how each community has a vibrant heritage and distinct identiy of its own.