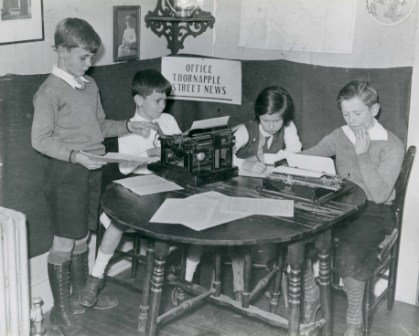 Young Reporters
Chevy Chase Children's Newspapers in the 1930s and 1970s
From interviewing their neighbors, to writing, printing, and distributing, children published these newspapers from start to finish in the basements and offices of their homes (with the occasional trip to a parent's office mimeograph). Despite the amount of work involved, these young reporters captured the news of their neighborhoods and the world, from new pets to new presidents, all with honesty and humor. Riddles, crossword puzzles, and "Hints for Kids" made the newspapers fun as well as informative, for young and old.
"Some of us thought you would like to have a little weekly newspaper giving the news on Thornapple St. We are leaving this first edition of the news with you and hope that you will enjoy it." 
The Thornapple Street News, October 10, 1931. CCHS 1989.27.01.
Thus began an enduring Chevy Chase tradition. The Thornapple Street News (1931-1936), The Shepherd Street News (1972-1974) and The Leland Street Sunday News (1973-ongoing) may have been produced decades apart and on different streets in Chevy Chase, but they all reflect the joys of play, adventurous and curious spirit of youth, and the support and encouragement of community.
"What a nice paper you publish! It becomes more professional all the time! Experience is marvelous! I do sympathize with the responsibilities of getting in all the reporter's contributions, editing, typing, etc. I used to be the editor of the Wilson [High School] "Beacon" in D.C. There is a lot of work, a lot of fun in doing it…" Letter to the Editor from Mrs. James E. Bryan, Jr., The Shepherd Street News, October 27, 1973. CCHS 1989.27.01.
 The newspapers not only give us a glimpse into the history of Chevy Chase, but suggest opportunities for children today. These "young reporters" learned valuable oral and written communication skills, awareness and concern for others, and how to express their opinions in a constructive way. It was the hope of one dedicated subscriber to the Shepherd Street News that "perhaps in 30 or 40 years (or maybe sooner) some other children will follow in your footsteps just as you have followed in your predecessor's footsteps…"  (The Shepherd Street News, December 23, 1972) 
While the legacy of these newspapers lives on in neighborhood and municipal newsletters, including the Leland Street News Blog, the Chevy Chase Historical Society hopes this exhibit will encourage today's Young Reporters to think about what they would include in a newspaper  and what makes their own neighborhoods of Chevy Chase so special.
 Can you find all 17 cars in the Word Search Game below?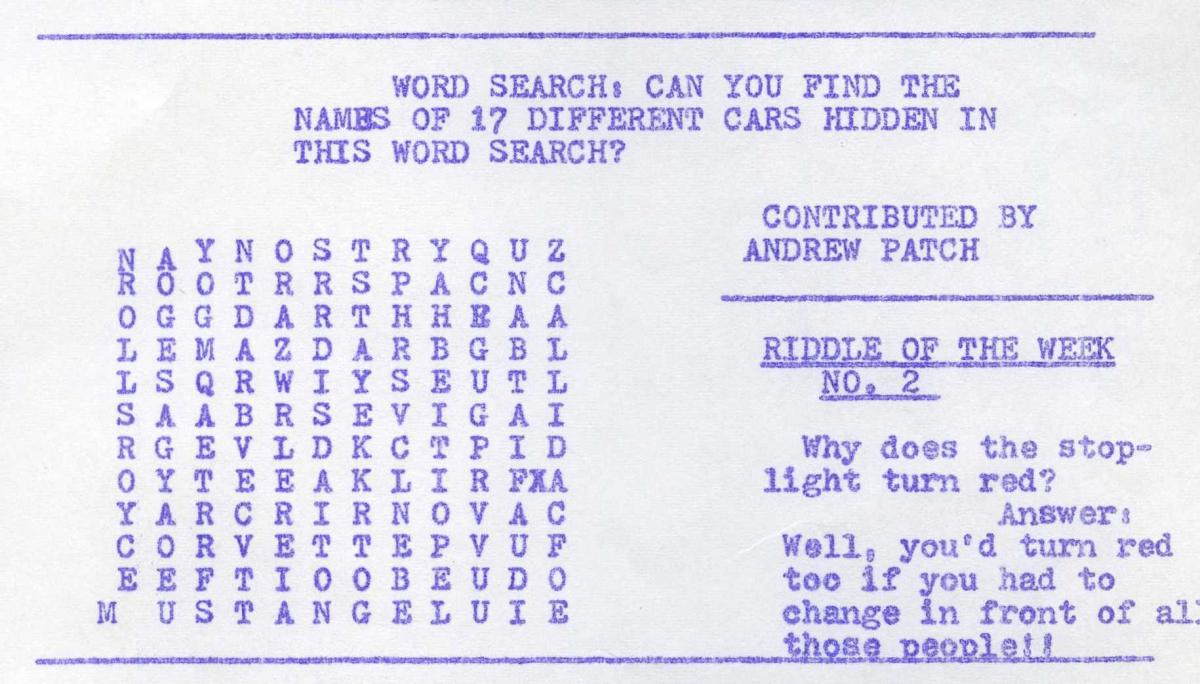 Take a step back, enjoy the memory of these decades and what it was like to see the world through a child's eyes.