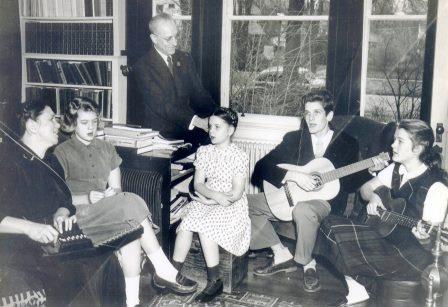 Folksinger Peggy Seeger reminisced with Mary Cliff about growing up in Chevy Chase and sang a few tunes in a Chevy Chase Historical Society program for the community on Saturday, March 15, at 4 p.m.
The program, "Memories and Melodies: Peggy Seeger in Conversation with Mary Cliff," was held at the Chevy Chase Village Hall, 5906 Connecticut Avenue, across the street from the Queen Anne house where Peggy Seeger lived in the 1940s and '50s.
Her father, folklorist and musicologist Charles Seeger; her mother, modernist composer Ruth Crawford Seeger; her brother, Mike Seeger, and her half-brother, Pete Seeger, helped spark the folksong revival in mid-20th century America. Peggy Seeger has lived in Britain for more than 30 years and was married to singer and songwriter Ewan MacColl before his death. MacColl wrote "The First Time Ever I Saw Your Face" about her.
Mary Cliff, friend of the Seegers and longtime radio host of the "Traditions" folk music show now heard on WAMU's Bluegrass Country program, talked with Peggy Seeger about her years in Chevy Chase and her subsequent music career. Between the memories, Seeger sang several of her favorite songs.
Admission to the program was free and drew CCHS members, local residents, and Peggy Seegar fans for one of the largest audiences ever for a CCHS Public Program.  Thank you to Peggy Seeger, and all who helped make this wonderful event possible.