The year 2015 will mark the 125th anniversary of the founding of Rock Creek Park, nature's jewel in the heart of Washington, DC that offers a refuge from the city for millions of visitors each year.  Twice the size of New York's Central Park, Rock Creek Park was the third National Park created by Congress, preceded only by Yellowstone and Sequoia.  In anticipation of this anniversary, the CCHS fall program focused on the Park, its history, and the magnificent natural beauty it offers its visitors.
Naturalists Melanie Choukas-Bradley and Scott Einberger shared photographs and stories from their new books about Rock Creek Park at the Chevy Chase Historical Society's Fall Lecture on Sunday, November 23, 2014.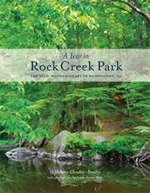 A Town of Chevy Chase resident and well-known author of a book on the trees of Washington, DC, Melanie Choukas-Bradley described the year she spent in Rock Creek Park, walking and skiing its trails, observing and recording natural events in all seasons and weather conditions. Her newest book, A Year in Rock Creek Park: The Wild, Wooded Park of Washington, DC, with photographs by Susan Austin Roth, captures the beauty of the Park that even frequent visitors may never see.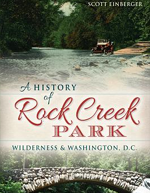 Scott Einberger provided a look back at Rock Creek Park's history – from the time of American Indians in the Rock Creek Valley, through the era of early mills and mansions, the area's links to the Civil War and the Park's establishment by Congress in the late 1800s.  A former U.S. National Park Service interpretive park ranger, Einberger is now program director for Dumbarton Oaks Conservancy.  His book, A History of Rock Creek Park: Wilderness and Washington, DCwas published earlier this year.
Both authors' books were available for sale and signing after their illustrated talks.
The event was held at the Lawton Community Center
4301 Willow Lane, Chevy Chase, MD.