Andrew J. "Cy" Cummings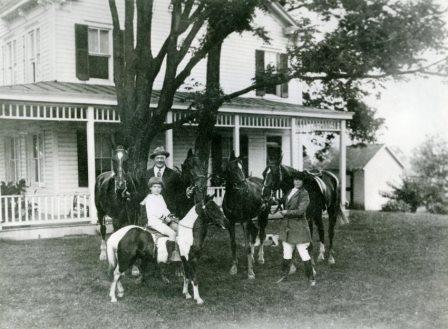 Andrew Joseph "Cy" Cummings was a renowned figure in Chevy Chase, the District of Columbia  and the state of Maryland – as a sportsman, successful farmer, and popular politician.  The youngest of James and Mary Cummings' children, he made a big impression on everyone who met him.  His friends included the rich and powerful figures of Washington society and politics as well as his neighbors and the people who worked for him over the years.
He was born in 1879, when the Cummings family still lived in their original farmhouse. He made his mark as an athlete at school, and gained fame while attending college, first at Columbian University from 1898-1899; and then Georgetown University, where he went in 1900 and became a star football player.  He also studied at Georgetown Medical School, and graduated with a degree in law from the National Law School.
Fame as a College Athlete
In addition to his accomplishments as a football tackle, Cy also played baseball and ran track and field.  His fame as a college athlete would follow him for the rest of his life.  A report in a local newspaper in 1907 about his announcement as a Democratic candidate for the Maryland House of Delegates provides an example.  Most of the article concerns a notable football game in 1898.  The following quotes are from The Washington Herald, August 5, 1907, page 5.
The announcement yesterday that Andrew J. Cummings was among the successful candidates in the Montgomery county primaries conveyed little to many who have long known "Big Cy" through his association with athletics in the District of Columbia.  "Andrew J." being his baptismal name, while "Cy" was selected by his early contemporaries in baseball, owning to his resemblance to Cy Young, of Boston, then in the zenith of his fame.  As "Cy" he is known not only in Washington and Maryland, but throughout the South.
The news story goes on the describe Cy as "Giantesque, but Good-natured."
"Cy" is 6 feet 5½ inches in height and weights 240 pounds.  Therefore, as an adversary in an athletic context he was not to be lightly regarded…
In the famous football game, Cy's Columbian team, with barely enough members, competed against a far better team, the Hampton Athletic Club, from the historically black college in Hampton, Virginia.  The Hampton team was well known for tying two games with the University of Virginia football team in the previous season.  Everyone thought the Columbian team would surely lose the match, and a likely score of 18 to 0 was mentioned.  But Cy Cummings asked to play tackle against the Hampton star player, known as "Bad Man" Hull.  The two strong men dominated the game. In the end, the score was 0 to 0.  After the game, it was reported that Cy and his opponent shook hands.
The game ended with the score 0 to 0, "Cy" repeating his tactics of the first half, though he said after the game that Hull was the hardest man he ever played against.  A mutual respect and admiration was conceived by each, and after the contest, during which all sorts of slugging methods were resorted to, they shook hands and agreed upon friendship.
The news article goes on to say that Cy no longer was active on the football field.
"Cy" is no longer as active as he was in athletic circles, though he still enjoys a game of football or baseball, either as a participant or witness.  Since entering politics he has taken a more serious view of the affairs of life.  In the late campaign he acquired considerable prestige as a speaker, the number of votes he received testifying to his personal popularity.
The story of Cy's athletic abilities would shape his public persona; as in the example of the 1898 football game, he was always described as a big man, even an outsized man, but a fair man who was quick to laugh, a good-natured giant.
Marrige to Zelpha Conter
Cy lived with his brothers and sisters at Pleasant Grove, which he sometimes called "Political Hill," since he would often have discussions about legislative matters at the house.  He married Zelpha Contner, who was from Pennsylvania, but well-known in Montgomery County.  The Washington Post article annoucing their marriage, published on January 1, 1914, described Zelpha as an "expert horsewoman."
Mrs. Cummings is known throughout Montgomery county as an expert horsewoman.  She has for a number of years been a familiar figure at the annual field trials of the Montgomery County Fox Hunters' Association, and at the meeting of the hunt clubs of Washington and vicinity, always riding with the hounds and usually being present or close by at the death.  She has wide circles of acquaintances in the county, by whom she is well liked.-The Washington Post, January 1, 1914, page 2.
Her son Andrew remembered that his mother had riding horses, primarily, but she sometimes "rescued" racing horses that owners wanted to put down.
She'd say, "No, don't destroy it.  Let me have him." … She got a number of horses that way.  I always had a pony when I was a kid.
In addition to sharing her husband's love of riding and fox hunting, Zelpha helped her sisters-in-law manage the household at Pleasant Grove.  Like many young women of the period, she learned to drive, and often drove Cy's automobile. Their only child, Andrew Joseph Cummings, Jr., was born December 6, 1915.
Maryland Politics
As described in newspaper accounts, Cy was not just an excellent athlete, but an accomplished public speaker.  He first ran for the Maryland House of Delegates in 1905, and served several consecutive terms in the Maryland legislature.  Among his political accomplishments were leading the Maryland delegation for Woodrow Wilson in 1912, enforcing prohibition throughout his public career, and improving Maryland's highway system.  His career as legislator ended in 1913, after which President Woodrow Wilson appointed him to the United States Shipping Board. He ran once again for the Maryland Legislature in 1924, but he was not elected. After leaving the legislature and becoming head of the Laurel Racetrack, Cy petitioned the state government to stop the "bookie bill," which would have legalized bookmakers in Maryland. He also fought to keep taxes from being raised on horse racing in the state.
 
"Mr. Cummings has represented Montgomery County in the Maryland legislature the last two terms, and is one of the best debaters on the floor of the assembly," the
Washington Herald
reported on April 11, 1911.
President of the Laurel Racetrack
Later in life, Cy Cummings became the President of the Laurel Racetrack, a perfect job for a horseman.  In his CCHS oral history, his son Andrew J. Cummings, Jr., tells the story about how his father got this position:.
My father was a great friend of Edward B. McLean, who owned The Washington Post -- E. B. McLean and Mrs. [Evalyn Walsh] McLean.  My father, at that point, was not working, out of a job, between jobs.  He was down at the McLean's home one day, and they got talking about the races.  My father was quite a sportsman.  He was interested in horse racing, golf, and hunting.  He had a pack of foxhounds.  He has as many as fifty-two hounds at one time, a full pack! …
Well, anyway, in the course of their conversation, he said, "You know, that job out at Laurel racetrack is open."  The former president had died.  McLean said, "Would you like to have that job?"
He said, "Yes, I would like to have that very much."
He said, "I'll get it for you.,"
So he said, "How are you going to do that?" "I'll show you."  So McLean picked up the telephone, and called up a man named Colonel Matt Wynne.  Colonel Wynne was the president of Churchill Downs racetrack down in Kentucky, where they have the Kentucky Derby, and a principal stockholder in Laurel Racetrack.  McLean not only owned The Washington Post, but the he also owned The Cincinnati Inquirer, the big paper in Cincinnati.
When McLean made the call to Wynne, Mr. Wynne claimed the job at Laurel Racetrack had been promised to someone else.  But Mr. McLean continued to advocate for Cy.
"Well," he said, "I'll tell you, Matt, if Cy Cummings don't get that job, the name of Churchill Downs will never again appear in The Cinncinati Inquirer."
Finally, after a long silence, Mr. Wynne said, "You can tell Mr. Cummings he's got the job."
Cy's fame and influence meant that he was able to ask for and receive some special favors, such as the job at Laurel Racetrack.  But there were other instances, too.   When a County road paving crew came down Cummings Lane in Martin's Addition, he walked up to the foreman of the crew, whom he knew, and convinced him to pave the lane all the way to the Cummings farmhouse!  In a similar story, his son remembered that through his political connections with Judge Mitchell, the political boss of Charles County, he was able to get a small road built to a vacation house out on Maryland Point, where Cy went duck hunting.
Caring for Old Friends
Cy Cummings was definitely well connected with people in business, politics, and sports.  He entertained his political friends and fellow fox hunters frequently at Pleasant Grove, but everyday people in the area also knew him well.  He might have gotten a favor here and there from some of his more powerful friends, but he also gave his share of favors.  His son Andrew remembered this story about a man named John Wormley:
When I was a little boy, my father and I were sitting on the front porch of the old house one morning, and he looked up the road, and here comes this colored fellow walking down the road.  He said to me, "Damn, if that doesn't look like John Wormley."  He hadn't seen him for years.  So he walked up into the yard, and they got to talking, and it turned out he was looking for a job.  My father said, "I've got a job for you.  You can stay right here, and live right here."
And they made arrangements that Mr. Wormley would sleep in a room above the stone dairy building on the farm.
It was a nice house there.  It had a chimney with a pot-bellied stove.  The hired man stayed right there and was very happy.  It was very warm and very nice.  He ate his meals in the kitchen, whatever we had.
Fox Hunting and Skeet Shooting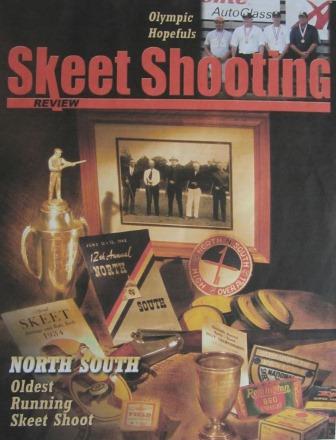 Cy wasn't a member of the local country clubs – after all, he could ride and hunt anytime he wanted on his own property.  Nevertheless, he was made an honorary member of the Columbia Country Club at the time of his first heart attack, in 1930.  The only other honorary members were past presidents of the club.  Before his illness, he would take his dogs out to fields and have them chase foxes, or conduct drag-hunts.  In a drag-hunt, a rag was soaked in fox-urine or offal from the zoo, and then dragged across a field ahead of time, creating a scent trail for the dogs to follow.  Cy was also one of the first people to introduce skeet-shooting to local sportsmen, and he enjoyed duck hunting at his Maryland Point home.
In 1933, his old friend Samuel Henry, who published a book about fox hunting at the Chevy Chase Club, wrote a long news article about a visit with Cy for The Washington Times, celebrating both Cy and his prized hunting dogs.  Since his heart attack, Cy no longer rode horses, but he still enjoyed his hounds and he had worked out a way to enjoy the fox hunting experience from a folding chair.  Mr. Henry describes his visit at the Cummings home, which he calls Oak Grove, and their early morning breakfast:
Our host and his hospitable wife and sisters receive us with hearty greetings.  A cheery fire warms us.
Over the mantel hangs a spirited hunting scene – hounds in full cry carrying a hot scent, suggest the favorite sport of the master, who is a giant in stature, blue-eyed, florid, with a wonderful vein of humor.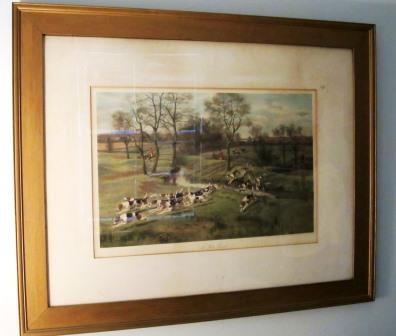 Cy is a fox hunter of the old school, genial, understanding, tolerant, the live and let live gentleman.
As Cy and his guests moved out to begin the hunt, they were accompanied by Jeff, the black man who worked for Cy.  It is Jeff who arranged Cy's collapsible chair, which he called "the Boss's grandstand."  For six hours, they followed the hounds who in turn followed the scent of the fox.
Big Cy dwells, affectionately, on the merits of these grand animals.  Breeding forward as thus illustrated is a religion with him.  His collection of trophies and ribbons from Canada and the States furnish unassailable proof of Cy's skill in breeding and training.  With such hounds and such country does Jeff's beloved Boss supply the cream of the sport in the vicinity of Washington. Samuel Joseph Henry, "Hunting on 'Cy' Cummings' Estate in Maryland," The Washington Times, November 21, 1933, page 1-2.
Cy Cummings died at his home Chevy Chase in 1937. His obituary in The Washington Post noted his many accomplishments, including his career as a football player for Georgetown University, noting that his son Andrew Jr. was following in his footsteps:
For the past 12 years he had devoted most of his energy and time to the promotion of sports -- an interest he developed during his student days at Georgetown University, where he was a member of the football team and considered one of the greatest tackles of all time. His son is now a member of the Georgetown squad.The Washington Post, July 10, 1937, p8.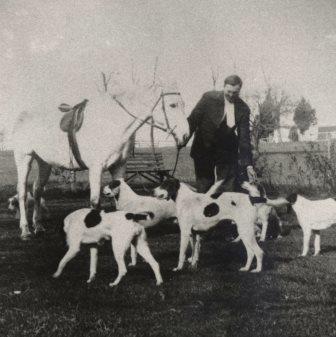 Cy's wife Zelpha died at Pleasant Grove in 1947.  His son Andrew Jr. completed his studies at Georgetown, married Ida Orme in 1943, served in the military, and then began a long career with the State Department.  He died in 2011 at the age of 95.
Cy Cummings in the News
In the gallery below, see selected news clippings, ranging in time from 1907 to 1919, about Cy Cummings.