Gertrude Abigail McNulty Stevens
Member of the Chevy Chase Reading Class, 1900-1952
Gertrude Abigail MacNulty, 1871-1952
Gertrude Abigail MacNulty was born on October 12, 1871, in Culpeper, Virginia. Her father, William Augustus MacNulty, was a native of Maine and a Civil War veteran who lost an arm during the Battle of Fredericksburg in 1862. Gertrude's mother, Abigail Prout Wiggin, was the descendent of one of the oldest families in Maine, dating back before the Revolutionary War.
William and Abigail were married in August 1865 while he was stationed in Culpeper, Virginia, as a major and provost marshal. Seen as carpetbaggers and "scalawags" by the locals, William and Abigail became involved in the work of the newly-formed Freedman's Bureau whose task was to help former slaves and poor whites in the aftermath of the war. Both volunteered to teach classes at the Whittier School in Warrenton after the school was threatened by local whites in the spring of 1866. William later served as postmaster and chairman of the Republican County Commission in Culpeper County, at a time when Republicans were viewed as "damn Yankees." In the mid-1870s, the family moved to Washington, D. C., after William accepted a job with the U. S. Post Office.
Following her high school graduation in 1889, 18-year-old Gertrude entered Mount Holyoke Seminary and College in South Hadley, Massachusetts. After graduating in 1893 as a in the "Literary Course," she returned to live with her parents in Washington while teaching in the public schools, including Western High School.
Eugene Ensign Stevens, 1865-1922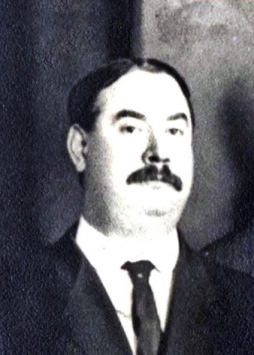 While Gertrude was still in high school, her future husband, Eugene Ensign Stevens, was entering his first year at Georgetown University Law School where he received his LLB in 1888 and his LLM in 1889. He became a junior partner in his father's law firm, headquartered in Washington.
Born in Cleveland, Ohio on March 15, 1865, Eugene Stevens was the son of Milo Bailey Stevens and Josephine Pearson. His father was a successful claims attorney, devoted to helping disabled veterans of the Mexican-American and Civil War receive their pensions for military service. Eugene's mother died while he was in law school.
Eugene quickly became involved in the social life of Washington, with a primary interest in the burgeoning musical culture in the Capital. As early as 1888, he became secretary of the Washington Choral Society and later served as its director for nine years. He was also an "incorporator, director, and first treasurer of the Washington Symphony Orchestra organization." He served the same roles in the Musical Arts Society, as well as the first president of the Capital Glee Club. He was a gifted singer and frequently performed with the Choral Society.
Eugene's family was active in the New Church (Swedenborgian) movement in Cleveland, one of the earliest abolition groups which also believed in integration. In 1889 he was a delegate to the first convention of the American League of New Church Young People's Societies. Eugene was also an avid bicyclist. As a member of the "Bohemians" group of Washington bicyclists, he and a friend undertook a four month trip through seven European countries in 1889.
Gertrude and Eugene
On June 10, 1896, The Evening Star announced the engagement of Gertrude MacNulty and Eugene Stevens. They were married the following September 22 at her parents' home on North Carolina Avenue in northwest D.C. In August 1897, Gertrude and Eugene became the parents of their first child, Eugene, Jr. The new family lived at 300 Massachusetts Avenue NW for the first few years.
Gertrude gave up teaching after she had her first child, as was often expected of a married woman. She found new opportunities for involvement in Washington's social scene. With her husband involved in music, she chose the world of literature and soon joined the Abracadabra Literary Club of Washington in 1898, whose purpose was "to promote social intercourse" through the sharing of literature. In no time at all, she was sharing some of her own short stories at the meetings (which, according to one report, were often filled with "humorous situations") and quickly became its vice-president in 1899. That same year, Eugene became secretary of the Musical Arts Society as well as choir director at the Church of the Reformation in Washington.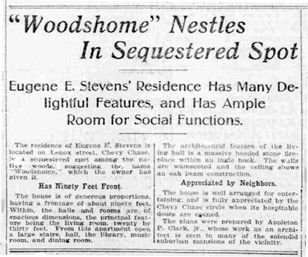 In February 1901, Eugene began buying property in Chevy Chase, Maryland, including lots 17 and 18 in Block 38, totaling 25,000 square feet. That summer, as was their usual custom, the Stevens spent May to October on their farm in North Madison, Ohio, where their second son, Raymond Hall, was born at the end of August. Over the next year they added to their property in Chevy Chase and began construction of a new house in late 1902-early 1903.
"The house is of generous proportions, having a frontage of about ninety feet."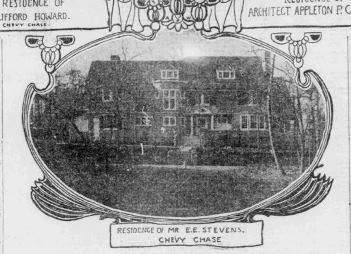 As the "handsome new residence" with a beautiful view from its window and porches neared completion, The Washington Post reported that the Stevens intended to occupy it during the next winter.
Over the next forty years, the Stevens family lived in five different houses in Chevy Chase: their first home on West Lenox Street, followed by homes on East Melrose Street, Underwood Street, Thornapple Street, and Williams Lane.
Social Clubs and Voluntary Service in the New Suburb
Although she had two small children when she moved to Chevy Chase, Gertrude immersed herself into the cultural life of the new suburb. Immediately after moving into their new home, she joined the Chevy Chase Reading Class and became an assistant chair the following year. Over the next decade she would lead discussions based on her readings of Cervantes, Moliere, Goethe, Browning, Ibsen, Trollope, Shakespeare (Henry IV), and Shaw's Man and Superman. She even chaired a series on the cultures of Egypt, Babylon, and China, perhaps with help from her husband and his round-the-world bike trip! Added to these responsibilities were the births of three more children in the span of six years: Myron, 1904; Robert, 1907; and Josephine in 1909. Census reports do not show any non-family members living with the Stevens, but we expect that they did employ domestic servants.
In January 1907, she and her husband were instrumental in forming the Chevy Chase Literary Club, a group open to both men and women. That same year, Eugene was named director of the Social Service League of Montgomery County, whose aim it was to help fight tuberculosis among indigents. Both Stevens were also involved in the Chevy Chase Roundtable, which they hosted at their home on West Lenox on a cold February night in 1912. Billed as a "Festival of All Nations," small groups illustrated "in costume, song and story" various periods of musical and literary history. The evening concluded with a Spanish-American play, followed by dancing.
Support for Voluntary Organizations, Woman Suffrage and Progressive Reform Work
Like other residents of Chevy Chase, Gertrude's interests were not limited to the social clubs and associations in Chevy Chase, but expanded to social service organizations in Montgomery County and the District of Columbia. Both Gertrude and Eugene were public advocates for voting rights in the District of Columbia and representation in Congress. She maintained leadership in the local chapter of Mount Holyoke graduates and joined the Federation of Women's Clubs in a project to improve playgrounds in the District. She spoke to schools about the importance of the relationship between teachers and parents. By 1912, she was an original member of the Chevy Chase School and Home Association as well as a trustee for the new Chevy Chase School and was also heavily involved in the Women's Clinic and the Chevy Chase chapter of the Florence Crittenton Circle, an organization devoted to caring for unwed mothers at its residential facility in the District.
An ardent supporter of woman suffrage, Gertrude joined more than 100 other suffragists and club women in a delegation to meet with President Woodrow Wilson in the summer of 1914. Eugene was no less a supporter of woman suffrage, and together they hosted a "bridge and 500" party at their home to raise funds for the Maryland State Equal Suffrage League in 1915.
Gertrude also served on a committee for housing reform in the District of Columbia. And in 1916, she served as head of both the literary and parliamentary sections of the Twentieth Century Club, eventually becoming its president in 1920.
After the Nineteenth Amendment was ratified, the Republican Party in Montgomery County began to take notice of this vibrant, committed woman of Chevy Chase. In the summer of 1921, her name was submitted to the party convention as a possible candidate for the Maryland House of Delegates, but she declined. Then, while the committee on nominations was in session, Gertrude and all the other women met in a "back room" to organize the Montgomery County Women's Republican Club. She was elected its first recording secretary. At about the same time, she was chosen to be the first president of the newly-formed League of Women Voters of the Montgomery County.
Eugene Stevens Suffers a Stroke and Dies at Age 57
At the height of all this activity in the public realm, her personal life changed dramatically in the fall of 1922. After spending a lovely vacation with friends on Cape Cod that year, Gertrude and Eugene returned to Chevy Chase. On September 26, while on his way from their home at East Thornapple Street to his regular meeting at the Masonic Lodge in Kensington, Eugene suffered a stroke and was taken to a local doctor's office where he died. He was only 57 years old. He was buried in Fort Lincoln Cemetery in Brentwood, Maryland.
Gertrude's tenacity prevented her from retreating into widowhood and instead propelled her ahead with even more determination. Within months following Eugene's death, she was named president of the Chevy Chase Women's Club, and in 1924 she was a delegate to the Maryland Republican state convention. That same year she sold the house on Thornapple Street and moved to Williams Lane where she lived for the rest of her life. [In 1990, a diary written between 1919 and 1924 by her teenage son Bobby was found under a bedroom floor. The owners managed to locate 88-year-old Robert J. Stevens, then living in Rockville, and invited him back to the house for the first time in 72 years. The visit was recorded by National Public Radio and aired on Weekend Edition in 1996.]
Raising Her Children by Herself
In 1926, Gertrude was the Republican candidate for the Maryland House of Delegates from Montgomery County, an election she lost although she received 5,508 votes. Though defeated in the election, Gertrude soon found herself in the news being praised as another kind of winner ─ as a parent.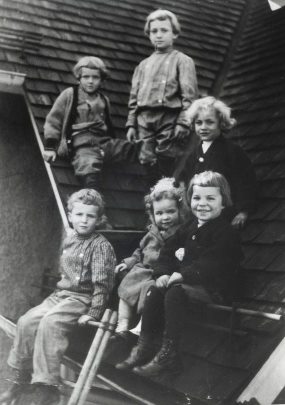 Her three sons, Gene, Mike, and Bobby, had made names for themselves as athletes at Western High School. In December 1926, Mike was honored in a unique way by the University of Maryland football program, an event featured in a Washington Post article. Mike, who was captain of the football team, was "to be honored as no other athlete in the history of the university . . . ." He was being honored not for his achievements as a football player, but because of his "fine personal attitude on and off the field" and the "ideal he has set for athletes at this university." The irony in all of this was that Mike had been recruited against Gertrude's wishes, who thought that football was "a form of modified murder." The Post article praised Gertrude as a woman who, in spite of her objections, could still watch her son participate, saying she "is the kind of woman whose sons always do fine things in the world. And certainly it is she who deserves sole credit for having given to him those qualities for which special honor is being done him tonight."
Eugene Jr. become a patent attorney, as did Raymond. In the 1930 Census, both Myron and Robert gave their occupation as "ballplayer" for a "commercial league." Robert went on to play shortstop for the Philadelphia Phillies for a short time.
Gertrude did not slow down, even as she approached her 60s. She continued to represent the Montgomery County Republican Party at state conventions while speaking out for suffrage and representation for the District of Columbia. She later served as chair of the League of Women Voters in Montgomery County in the 1930s. She even squeezed in a two-month trip to Europe (at the age of 70) with her daughter Josephine after the latter's graduation from Mount Holyoke College. And she found time to write the "club song" for the groundbreaking ceremonies of the Chevy Chase Women's Club in 1938.
Gertrude Stevens died at her home on Williams Lane on July 6, 1952, and was buried with her husband Eugene in Brentwood.
Gertrude and her husband Eugene left their unique marks on the social, cultural and political life of the new suburb of Chevy Chase, and the entire metropolitan area.