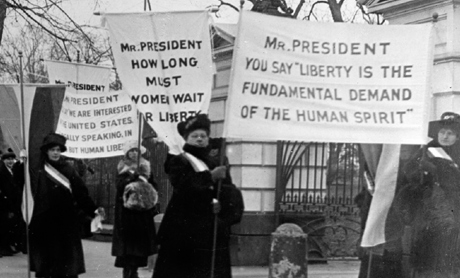 One hundred years after the 1919 passage of the Constitutional amendment giving women the right to vote, the Chevy Chase Historical Society invites local residents to an illustrated talk, "Votes for Women: How the Battle Was Waged and Won," at 4 p.m.  on Sunday, November 17, at the Jane Lawton Community Center, 4301 Willow Lane in the Town of Chevy Chase.
Historian and author Dr. Elizabeth Griffith will present the program. Griffith is an authority on women's history and author of In Her Own Right, the definitive biography of suffrage leader Elizabeth Cady Stanton. The book was named "one of the best books of the century" by editors of The New York Times Book Review and "one of the of the five best books on women's history" by the Wall Street Journal. Griffith's book inspired Ken Burns' PBS documentary, Not for Ourselves Alone.
Griffith's November 17 talk will describe the 80-year fight by an array of courageous women to secure the right to vote. A reception with light refreshments will follow the program. No reservations are necessary. Questions may be directed to CCHS at 301-656-6141 or info@chevychasehistory.org.