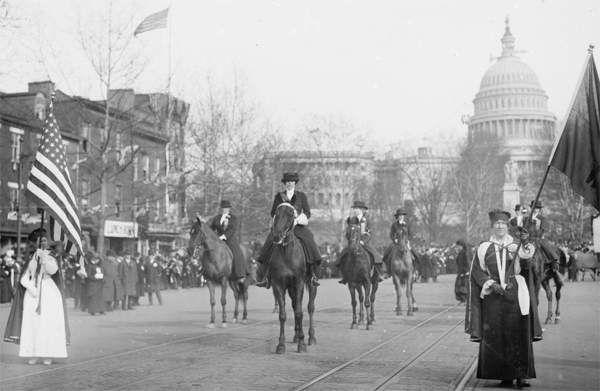 CCHS values the health and well-being of the audience members at our lectures. In an abundance of caution following the recent announcement of coronavirus cases in Montgomery County, the CCHS Board of Directors has made a difficult decision. Sunday's lecture by Rebecca Roberts on the 1913 Woman Suffrage Procession has been canceled. We look forward to rescheduling Rebecca's talk at a later time.
We regret deeply any inconvenience caused by this decision, and we are grateful for your understanding.
The Chevy Chase Historical Society continues its celebration of the centennial of the Nineteenth Amendment with its Spring 2020 lecture, "Marching for the Vote: the 1913 Woman Suffrage Procession." The story of this turning point in the suffrage battle will be told by historian, journalist and author Rebecca Boggs Roberts. The program, free and open to the public, will be held on Sunday, March 8, at 4:00 p.m., at the Lawton Community Center, 4301 Willow Lane.
On March 3, 1913, thousands marched from the US Capitol to the Treasury Building in support of the decades-long fight to amend the US Constitution to grant women the right to vote. At the head of the procession was activist Inez Milholland, who rode in on top of a white horse in a flowing white cape and gold crown. Behind her stretched a long parade with nine bands, four mounted brigades, three heralds, about twenty-four floats, and more than 5,000 marchers. Organized by suffrage leader Alice Paul, the parade was a grand spectacle, the first civil rights march in the shadow of the nation's capital.
The program will be followed by a reception at which light refreshments will be served. No reservations are necessary. Prior to the lecture, CCHS will hold a brief annual meeting at which the membership will elect directors-at-large. For more information about the program, contact CCHS at 301-656-6141 or info@chevychasehistory.org.