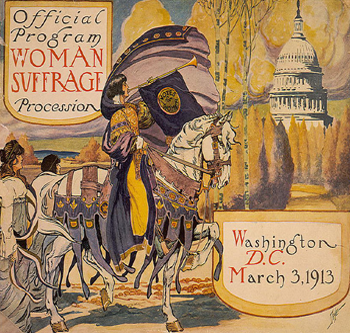 Historian, journalist and author Rebecca Boggs Roberts will present the Chevy Chase Historical Society's first-ever Zoom webinar on Sunday, November 15, at 4 p.m., as she describes the 1913 suffrage parade that turned the tide in women's long fight for the right to vote. Although it would take seven more years until the 19th amendment to the U.S. Constitution secured women's right to vote, Roberts says the violence against women marchers that day raised awareness of the suffrage issue and led to the passage of the milestone amendment 100 years ago this year.
Roberts is the daughter of distinguished journalists Steve and Cokie Roberts and author of Suffragists in Washington, D.C.: The 1913 Parade and the Fight for the Vote. She currently serves as curator of programming at Planet Word, the recently-opened museum celebrating words, language and reading in Washington, D.C.'s Franklin School.  
The November 15 webinar was free and open to the public, with required advance registration.
Questions may be directed to 301-656-6141 or info@chevychasehistory.org.