Hattie Sterling Case Howard
Member of the Chevy Chase Reading Class, 1903-1906
Hattie Case Howard, 1867-1958
Hattie Sterling Case was born on December 31, 1867, in Wabasha, Minnesota, to William Wallace Case, a Civil War veteran, and Mary Frances Fernald, the descendent of a long line of distinguished New England families dating back to the Mayflower. Her parents met in Wabasha, Minnesota, while William was recovering from a Civil War wound in a facility run by Mary's mother and were married in 1865. By 1873 the family was living in Washington, D. C., where William had begun working as a clerk for the Bureau of Pensions.
In 1886, Hattie graduated from Western High School and soon became involved in the social clubs in Washington, where young people could meet like-minded friends with similar pursuits, such as travel, literature, music, and drama. She was also an accomplished singer, often featured as a soloist at concerts and at local churches. But she was also interested in history, and in January 1889 she organized a class "for the study of ancient history," the subject of the first meeting being Egypt and the pyramids.
Nevertheless, it was music that kept her in the public eye. By 1891, in addition to her singing appearances, she had begun to write her own songs, two of which, "Her Pa Will Pay" and "Polly," were introduced at a concert sponsored by the Emanon Musical Club. The following month, she appeared in an operetta entitled "The Rough Diamond." In 1892 she wrote the music to a poem written by her mother and got it published as "Only the Old Flag." (The song was dedicated to Mrs. John A. Logan, an early suffragist who is also credited by some with the creation of Memorial Day.)
It was through her musical talents that she met her future husband.
Clifford Howard, 1868-1942
In 1888, twenty-year-old Clifford Howard moved to Washington to begin studies at the Columbian University Law School (later renamed George Washington University). Born October 12, 1868, in Bethlehem, Pennsylvania, Clifford was the son of William and Agnes Howard. William Howard was a journalist on the editorial staff of the Philadelphia Press and a politician noted for writing on economic issues. Clifford's mother, Agnes Angelica Seidel, was the daughter of a Moravian minister.
In 1889, the year before his graduation, Clifford got a job with the Commissioners' Office of the District of Columbia as a "stenographer and typewriter." In June 1890, he received his law degree. By this time, Clifford's father had relocated his family from Pennsylvania to 928 T Street NW in Washington and was employed at the Pension Bureau ─ the same government agency where Hattie Case's father worked.
Clifford's first love was writing, especially poetry. His public writing career started as early as March 1891 with letters to the editors on a variety of subjects, including such diverse fields as philanthropy and the phonetic pronunciation of English.  A month later one of his poems, called "Innocence," appeared in The Evening Star.  Soon Clifford's poems, essays, short stories and letters to the editor began appearing with increased regularity in the Washington papers. His biggest achievement at that time was the publication of his first book of poetry in December 1892, entitled "Twigs, Leaves, and Blossoms."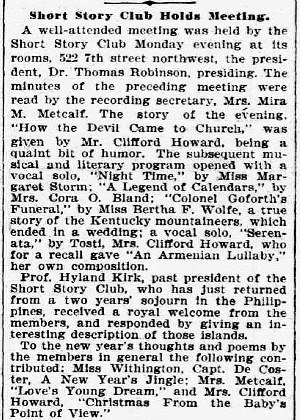 A Partnership of Poetry and Music
Hattie and Clifford were linked together for the first time in the public press during a meeting of the Minnesota Association on June 2, 1893, a favorite organization of Hattie's father.  Hattie often attended events sponsored by the group. The Washington Post noted that "Miss Case presented an original composition, 'The Rose Song,' whose words by Clifford Howard, Miss Case had set to music." An article in The Washington Post on Christmas eve 1893 stated that many of Clifford's poems were being "set to music, illustrated in the magazines, and copied in papers and reviews both in this country and abroad,"  noting that Hattie Case had set to music "verses of special merit," including several by Clifford.
Their collaboration led to their marriage by the end of the year. The wedding took place at 6:30 p.m. on December 20, 1893, at Hattie's grandparents' home on Delaware Avenue.
Married Life in the District of Columbia, 1893-1903
For the first five years of their marriage, Hattie and Clifford lived with his parents on T Street NW.  They moved to Capitol Hill in 1899, when Clifford was working as Assistant Secretary of the District Board of Commissioners.  But outside of work, he was devoting much of his spare time to writing poetry, stories, and essays for publication in the local newspapers and a few periodicals.
Hattie, now referred to in the press simply as Mrs. Clifford Howard, settled down to a life of afternoon teas, open houses, and a schedule of "at homes" in her in-laws home ─ the practice of publicizing when she would be "at home" to receive guests. Within a month after her wedding, she hosted a reception for over fifty people, entertaining them with several of her own compositions, including music set to her husband's poems.  In the spring of 1895, Clifford's second volume of poems, entitled "Thoughts in Verse," was published.  That same year, he became involved in the women's suffrage movement in the District ─ an interest that stayed with him – and presumably Hattie, too -- until the Nineteenth Amendment was passed and ratified in 1920. By early 1896, Hattie and Clifford, along with Hattie's parents, had become members of the Short Story Club of Washington.  At one meeting of the club, Hattie sang "Good Night," a song she and Clifford had written together in which, according to one listener, ". . . the notes of the night owl are faithfully reproduced."
Hattie volunteered at the Women's Clinic and the Union Veterans League, while Clifford continued to write and speak about such issues as the death penalty (which he opposed), woman suffrage, and housing conditions in the District.  Hattie very likely was involved in a project sponsored by a group her mother helped form to provide comfortable housing for soldiers visiting Washington during the Spanish-American War in the summer of 1898.
One of the more unusual clubs attracting Hattie was the Thirteen Club. She and her parents served as members of the executive committee. A description of the club appeared in The Evening Star on February 1900. Following the club's executive committee meeting on January 30.  Composed of thirteen members, the committee sat down to eat at precisely 10:13.  The Star explained that:
 
"The members . . . deride all popular superstitions as foolish, and in support of their creed they sit thirteen at table . . . seated under an open umbrella.  Salt is accidentally spilled at the place of each diner, who sits before a lighted candle, which is timed to burn out before 12 o'clock midnight.  The members of the club march into the banquet hall or dining room under a ladder and during the course of the dinner a large mirror in the dining room accidentally falls to the floor and is smashed to pieces." - The Evening Star, February 1, 100, p. 3.
The meeting ended at exactly "13 o'clock" (1 a.m.), with the next meeting scheduled for February 13. The total membership of the club was 1,313.
 
Clifford's book is serialized, Hattie gives birth to their daughter Hildegarde, and they move to Chevy Chase
Clifford Howard's writing career began to take off in October 1900, when The Ladies Home Journal began the monthly serialization of "The Story of A Young Man," Clifford's attempt to present the life of Jesus solely as a human being. It was very well received; a brief review was later published in The Washington Post, September 1, 1906.
But an even more significant event occurred by the time Hattie sat down to perform a piano solo for the Short Story Club in that same October.  She was now about two months pregnant. Her last reported performance prior to giving birth, at a meeting of the Unity Literary Club, was in the middle of January 1901.  Two months later, Hildegarde Howard was born on April 3, 1901. At a Short Story Club meeting later that month, one member dedicated a poem to the Howards, entitled "Hildegarde."
As his success with his writing career grew, Clifford decided to "get out of town" where he could work more freely.  In June 1902, The Washington Times reported Clifford as saying "his new cottage one mile north of Chevy Chase with his two-year-old daughter will be good enough for him for thirty days," adding that "there is a suspicion that [he] may get out his writing materials and coin a couple hundred from the inspiration offered by the cool Maryland breezes."  Perhaps this vacation in Chevy Chase inspired the Howards to purchase land in 1903.
Two months later after his Chevy Chase vacation, Clifford was featured in the August 3, 1902 issue of The Washington Times, describing an "experiment" suggested to Clifford by a scientist from the Smithsonian Institution. It involved mescal, a hallucinogenic drug from a certain species of cactus, used by the Kiowa Indians of New Mexico in some of their religious practices. Clifford agreed to try it and news article reported on his experience. Clifford told the newspaper that "It would require too long a recitation to detail my experience of the evening. The effect of the mescal remained for several hours, during which time I passed from one scene to another ─ all delightful, all filled with wonder and with strangeness."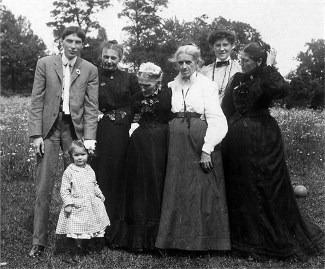 Clifford and Hattie purchase land in Chevy Chase in January 1903
Clifford and Hattie purchased a lot from the Chevy Chase Land Company in early January, followed by a second lot a month later. The Evening Star described in great detail the plans for the new home on the corner of Connecticut Avenue and Lenox Street in Chevy Chase, Maryland. It was designed by architect Appleton P. Clark, Jr. Then, just three months later, The Washington Post announced that Clifford had decided to devote his full time exclusively to writing, adding that one of Clifford's aunts had recently died in Paris and left him "a considerable fortune."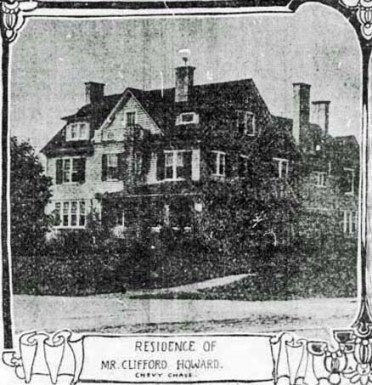 Life in the New Suburb
After the Howards moved into their new house at 6000 Connecticut Avenue in the fall of 1903, Hattie quickly became active in the life of Chevy Chase and joined the Chevy Chase Reading Club.  In April 1905, she appeared in "The Poison Peanut," a production of the Royal Italian Opera Company given in Chevy Chase for the benefit of the Free Library Association.  Also appearing in the opera was Eugene E. Stevens, whose wife, Gertrude, was a member of the Reading Class.  Clifford Howard served as president of the Chevy Chase Association.
Just a Few Years in the Chevy Chase Reading Class
Although Hattie Howard joined the Reading Class shortly after she moved to Chevy Chase, for health reasons she was absent from the group's meetings in the winter of 1905. She did, however, appear in the group photograph thought to have been taken that same year, most likely in the spring. And she led a discussion of Cervantes in 1906-1907 with Mrs. Stevens and Mrs. Tucker. She was not the only resident of Chevy Chase who traveled to California in the winter months - the warm and dry weather in California was thought to be especially healthful for those suffering from any number of ailments. We do not know what the cause of her illness was in 1905.
Though apparently happy with their new home in Chevy Chase, changes were soon to come.  In March 1906, the house was suddenly listed "for sale" in The Evening Star: "Owing to necessity for leaving the city, the 'Clifford Howard' Residence will be sold."  The price was listed at $23,000.
On September 1, 1906, The Washington Post announced that the Howards had left Chevy Chase for Everett, Washington, "where they will establish their future home."  This must have been a mistake – or perhaps Everett was just a stop on their trip to the west coast. The Howards were moving not to Everett, Washington, but to Los Angeles, California, apparently for Hattie's health.
Four months after moving the California, on January 10, 1907, Clifford and Hattie sold their home to John W. Yerkes, a former Commissioner of the IRS. 
The Howards in California
The story of the Howards from 1907 on becomes exclusively that of Clifford.  Little is known about Hattie's life, though she must have been busy caring for their daughter Hildegarde. Clifford was now free to pursue his love for writing, and he contributed articles and short stories to The Ladies Home Journal, The Atlantic Monthly, and The North American Review, among other publications. He remained active in the campaign for womean suffrage through editorials, speeches, and materials used political gatherings, particularly in California. In 1911, California women were granted the right to vote, the sixth state to do so.
More significantly, Clifford was attracted to the fledgling motion picture business which had taken root in the Los Angeles area. By 1912 Los Angeles had its first movie studio, and in 1914, Cecil B. DeMille produced the first "made-in-Hollywood" film, and the business took off.
Clifford quickly began rewriting his short story plots into scenarios for the cinema. The first film in which he was credited as a writer was A False Move, released in June 1914.  In 1916, his film, Purity, produced by the American Film Company, caused a significant controversy. Described as a "morality play," it featured nude scenes and "partially draped figures."  Over the next twelve years, Clifford worked for several different film companies, earning writing credits for twenty more films. The last one for which he received credit was The Better Man, released in June 1926. But he would work on one more.
Between 1926 and 1927, Clifford worked as an assistant screenwriter on Cecil B. DeMille's silent film epic, The King of Kings; but when it was released in the spring of 1927, Clifford's name was not among the credits. Later that same year, the first "talking picture" was released and changed everything.  No record has been found of Clifford ever having worked on a sound movie.
Little is heard from either of the Howards after 1927. By 1930 they were living in a rented house on Normandie Avenue (at $62.50 per month), Clifford's occupation described as a "writer of fiction."  Their daughter, Hildegarde, and her new husband of the previous February, were living with them. Both Hildegarde and her husband Henry Wylde were paleontologists at the Los Angeles County Museum.
Clifford Howard died on May 19, 1942, at the age of seventy-eight. He was buried in Forest Lawn Cemetery. Hattie remained in California the rest of her life and died in Los Angeles on April 8, 1958, at the age of ninety-one.
Clifford and Hattie's daughter, Hildegarde Howard
The lasting legacy of Clifford Howard and Hattie Sterling Case is perhaps found not in their many literary and musical contributions, but through the work of their daughter, Hildegarde.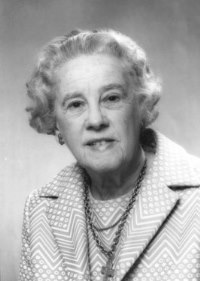 As a student working at the Natural History Museum of Los Angeles County while in graduate school, she became interested in the fossil remains at the La Brea Tar pits. She eventually focused her work on avian paleontology and became not only a major pioneer in that field, but the world's first woman avian paleontologist. She was named the chief curator for the division of science at the museum in 1951 and served for ten years. She was also the first woman president of the Southern California Academy of Sciences. In 1977 the Natural History Museum named in her honor the Hildegarde Howard Hall of Cenozoic Life.
Her husband died in 1984. Hildegard lived to be ninety-seven and died at Laguna Beach on February 28, 1998. They had no children.