Chevy Chase Junior College Closes in 1950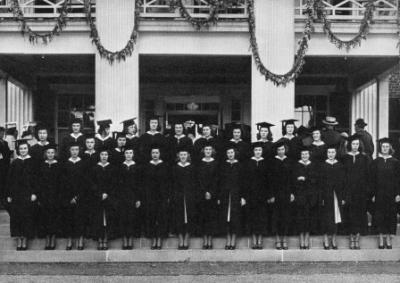 The end of the school year always brought joy and sadness to those girls leaving Chevy Chase Junior College. Some would be back at the end of the summer, others would graduate and move on to their new lives. But for the Chevy girls leaving in June 1950, none expected that this would be the last graduation.
Returning students were surprised to learn that the school would not open in the fall.  In 1951, the following year, the property was sold to the 4-H Foundation.
In the 1938 edition of the school's yearbook The Chaser, a student wrote a short essay reflecting on all the things she would miss after leaving Chevy Chase. She wrote of leaving behind friends and teachers, and how her days would become ordinary again:
"Wednesday will be just another day to me -- not the anticipated joys of a downtown excursion. Sunday will not mean a concert and ice cream for dinner. January will not bring qualms about final exams, nor will February bring the excitement of the Frantics rehearsals."
There is no mistaking the impact Chevy Chase Junior College had on this girl's life, and the lives of students at the school. So when notices were sent to students, informing them that Chevy Chase would not open in the fall of 1950, many girls were surprised and confused. In August 1950, just before the start of a new school year, President Frances Brown announced that Chevy Chase Junior College would not reopen.  According to The Washington Post, Miss Brown said the Board of Trustees voted to close the school for the following reasons:
"...low enrollment, rising costs, and the uncertainty of the international situation."
In a brochure titled "My Two Years at Chevy Chase," produced not long before the school closed, many recent graduates detailed their experiences at the school, how their time there prepared them for their future, and the meaning it still held in their lives.  Their happy memories of their "two years" at Chevy Chase, printed next to their smiling graduation photos, is a strong contrast with the financial situation faced by administrators at the end of the 1950 school year.  Click here to view a PDF of the brochure.
In 1946, just a few years before, Chevy Chase celebrated the largest enrollment in its history, but this increase was apparently short-lived and tuition was insufficient to cover operating costs.  The lack of financial resources may have stemmed from a postwar campus building campaign. Without the ability to further increase attendance, the school may not have been able to raise the necessary funds.  And the Korean War, a "hot spot" in the new Cold War between super-powers added to the uncertainty.
But these were not the foremost concerns of the students who were looking forward to returning in the fall of 1950.  They were unprepared for the abrupt closure, and particularly the inability to remain in contact with their friends.  Joan Russell remembered,
"The great loss when Chevy closed was that suddenly we all lost all contact with friends.  Most of us were at that point of either applying to another college or planning a wedding. And now…with last names all changed, where are any of those friends?"