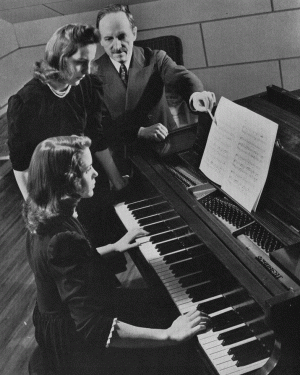 Chevy Chase College employed many teachers and support staff over the years.  The number of faculty members grew with enrollment, and included artists and musicians as well as those skilled in various academic fields.  But in addition to faculty, the school employed administrators, as well as those who cared for the students, the school buildings and the large property surrounding them.  These included women who served as chaperones for school excursions and as "house mothers."  But like the large households and the exclusive country clubs along Connecticut Avenue, Chevy Chase also employed men and women in lower level jobs, as housekeepers, waitresses, cooks, and grounds keepers.
Faculty Members
Many members of the Chevy Chase faculty taught at the school for years.  Felix Garziglia became a member of the Chevy Chase music faculty in 1907 when he was in his twenties, and taught until at least 1942.  Known as a pianist, he frequently gave concerts during the school year.  Effa Funk Muhse, PhD, began teaching biology in 1927 and was made an emeritus faculty member in 1948. 
Not every teacher could be assured of long-term employment, however.  In 1912, a brief article in the Washington Post describes a suit brought against Chevy Chase for $3,000 in damages by Thomas Evans Greene, a professor of vocal music.  He claimed that after teaching at the school in 1909, 1910, and 1911, his contract with the school for the 1912 academic year, originally made in July of that year, was not honored in September.  We do not know how the case was resolved, or whether there were contract issues with other faculty members over the years.
Students offer a different perspective on the faculty – liking some, critical of others.  Joan Russell, class of 1950, remembers some of her teachers and other members of the staff: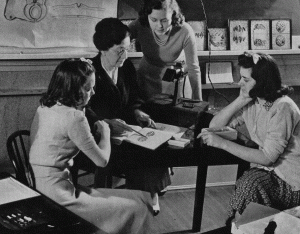 "The teachers were a bizarre bunch.  Basil Toutorsky, the music teacher -- all of them perfect for a Hollywood character!  The French teacher was so French looking, a bit austere, lovely.  My English teacher always looked as though she came in from a windstorm.  I think she had a batch of young children, she was SUPER!  The Spanish teacher we nicknamed Senora Guano (meaning bat poop) as she was just not friendly.  Mr. Greet, the drama teacher with a thick English accent -- at one time, he played Puck in a play in England and I bet he was perfect for the part.  Grace Williams was our house mother and she had a handful with us!  Frances Brown, as President, came in a total Guatemalan outfit including the shoes after a vacation break. She seemed OK, a bit aloof.  Mr. Scudder was often in the small office.  There was a Dutch door there and we could buy small supplies like pens and paper."
Click to see a PDF of the Faculty from the Joan's 1949 Yearbook, CCHS 500.03.05.