....a beautiful 100 year old Scrapbook belonging to a Chevy Chase student...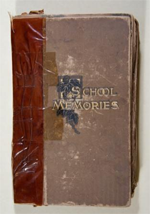 Now available for viewing as a PDF:
Through the generosity of Mr. Richard Lee, son of Ruth Cain Lee, and photographer William Mills, we are very pleased to make available a PDF of Ruth Cain Lee's 1915-1916 scrapbook, created when she was a student at Chevy Chase College. Mr. Lee had already allowed CCHS to photocopy several pages of this precious scrapbook in 2007, but by allowing CCHS volunteer William Mills to photograph each page in 2014, we were able to create a combined PDF file of the entire scrapbook.
It took us a little longer than we expected, but now everyone can view the entire document without further damage to its fragile pages.  Click to see dance cards, recital programs, pamphlets, and photographs that Ruth Cain wanted to remember, including some great photographs of cadets at Annapolis!
CLICK HERE for the 85-page Scrapbook.
CLICK HERE to see close-ups of each of Ruth Cain's Photographs
CLICK HERE to read the Belasco Theater program for the play "The Boomerang," which Ruth Cain saw on her trip to New York City.
CLICK HERE to read the program from the Hippodrome, another souvenir from her trip to New York City.
CLICK HERE to read the programs for a Chi Zeta Chi convention in Atlanta which she or someone she knew must have attended. Chi Zeta Chi was a medical fraternity. She also included another Chi Zeta Chi program, and a pretty yellow silk sash.  CLICK HERE to see it.  
Please note:  In order to upload these large files to our website, we needed to compress the images.  If you are interested in viewing the higher quality images, please visit us at the CCHS Archive and Research Center.