"...we try to train in all maidenly graces."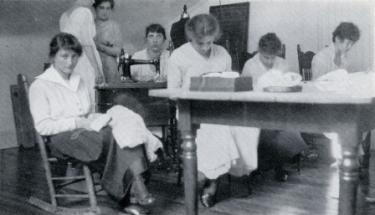 In the early years, Dr. and Mrs. Samuel Barker as the first owners and principals of Chevy Chase were primarily concerned that their students learn the necessary social skills for all women of good standing. It was believed that girls should be prepared to intelligently participate in the affairs of home, community, and contemporary society.
In this period, Chevy Chase School operated as a finishing school.  Teachers and administrators were adamant about instilling real values of household economics as well as other subjects. To that end, the faculty took care to teach that life was not all about "spending money, dressing extravagantly, and doing superficial work." Instead, Chevy girls learned to act as social hosts, ensuring the pleasure of their guests and expressing poise and dignity at all occasions. In a Washington Post article from 1911, these educational goals were described:
"It is our purpose to make the social life in the college especially attractive. We have receptions and course dinners, at which certain young ladies act as hostesses, and are responsible for the pleasure of the guests for the evening. This gives a girl ease of manner and a sense of making herself attractive and giving pleasure to others. We endeavor to surround our pupils with beautiful and refining influences in the appointments of the drawing room, and the girl herself, who moves in them, queen of all, we try to train in all maidenly graces."
The importance of the home in the future lives of Chevy Chase School graduates was an expressly stated value of Dr. Barker. In his speech to the fifteen women who graduated in 1909, he urged them, according to The Washington Post, to "avoid politics and the suffragette type of womanhood that they might cultivate the home."  In his opinion, each young woman should strive to make a prominent career in their homes.
Similarly, Champ Clark, the Speaker of the US House of Representatives, spoke at graduation in 1911 and told the Chevy girls that the degree they were to receive that day would be the most important certificate they would hold until the day came for them to get their marriage license.  As reported in the Washington Herald: 
"Girls, this is the most important certificate that you will possess until some day you go with some healthy young American to the county clerk and get a marriage license, and judging from the looks, I expect all of you will receive offers."